Defense & Security
A sector facing many challenges
We want to provide public and private actors in the defense and security sector with innovative solutions to their digital challenges.
Faced with the deterioration of the international context and the insecurity linked to the spread of terrorism, States want to equip themselves with multiple, more efficient and broader capabilities to protect their population and their territory.
All public and private actors are therefore faced with the challenges of efficiency, innovation and digitalization as a lever for transformation. Their data and digital sovereignty must also be protected. 
Therefore, all these actors are required to maintain and modernize their legacy systems while taking advantage of new technologies and innovation to renew themselves and fully exploit their potential.
Relevant, reliable and high value-added solutions
Actors in the defense and security sector have set the following goals :
respond to the growing security challenges ;
adapt to the requirements of the field and operational environments;
protect, control and transform their digital assets as well as protect themselves against attacks;
integrate new digital technologies into their practices;
reduce the costs of their digital systems and increase their interoperability;
find, imagine and implement innovative solutions, in particular to overcome a long-lasting and deep skills crisis.
We are committed to putting our digital expertise to work for our clients
We combine knowledge of the defense and security industries with expertise in IT
Our in-depth knowledge of the defense and security industries combined with our expertise covering the entire IT spectrum enables us to support you in your digitalization.
Our recognized know-how is at your disposal to face these new technological challenges and security needs.
We are committed to supporting you in the exploitation and protection of your data, the identification of risks and threats and the development of your activities through innovative and promising digital solutions.
We put digital technology at the service of your ambitions
Thanks to our experience, we have been supporting major public and private defense actors in their digitalization for many years.
Our offers
Through a wide range of products, systems and services, we meet the needs of public and private actors in the defense and security field. With our local presence covering the whole territory, we guarantee a real proximity with our customers.
Our expertise in legacy, data and cloud enables them to make a smooth transition ("continuity in change") towards the digital flow.
Consulting
Our long-haul expertise allows us to support our clients in the defense and security sector in their strategic, organizational, functional and regulatory challenges as well as in their digitalization: transformation roadmap and masterplan design, use cases/processes definition, organizational and technical benchmark, change management...
Cybersecurity
Our Identity Access Management (IAM) platform, Ilex©, our Security Information and Event Management (SIEM) solutions, Keenai©, and our network of MSS-Security Operation Centers (SOC) are integrated into data, application, infrastructure and user protection services thanks to high technology solutions.
C4ISR Solutions
Our Baykus© solution allows a strategic and tactical approach to command, control and intelligence operations (maritime border control, electronic warfare [EW], communications surveillance [COMINT]). It is capable of integrating all types of sensors from third-party manufacturers.
Physical and electronic security
We can ensure the security of your sensitive infrastructures with our software and algorithms specialized in the processing of video and audio recordings, computer vision, communication analysis via open standards that can be connected to third party device integration services.
AMS+
We offer high level runtime services based on our own 4D methodology (Drive / Decide / Deliver / Disrupt) aiming at industrializing the maintenance of your IT applications, reducing your operational expenditure costs, improving your legacy through innovation (automation and LowCode) and implementing an agile production method for a fast delivery.
Green
Our solutions aim to improve your sustainability and help you comply with European CSR regulations and move towards a carbon neutral footprint: energy efficiency (Synergica©), product lifecycle optimization (IoT platform, AR/VR solutions, Digital Twin, predictive maintenance), flexible workplace management (HubtoBee Flex©) or paper reduction (Bdoc Unity©).
Data
We help you to fully exploit your data, by facilitating its exploitation (authentication management, compliance and privacy impact assessment, PIA [Privacy Impact Assessment], data catalog implementation, data quality, APIsation) and by developing its use (data science based on industrialized use cases, governance [data mapping, MDM, PIM, DAM] and training [data acculturation, Data Academy]).
Cloud
Our end-to-end service accompanies the cloud transition of our D&S customers, adapting to the reality of their legacy and security needs: core system modernization, APIsation, go-to-cloud within multimodal environments, sovereign cloud, hyper-automation, observability, risk and privacy/security management.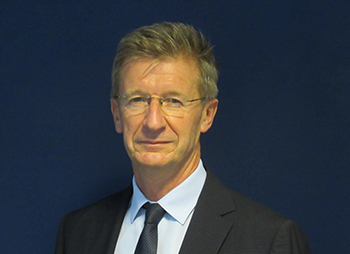 Contact
Patrick Destremau
Head of Defence & Security Sector
Executive VP - Lieutenant-General (Ret.)
To contact us, please send an email to the following address :