Cloud Native & Smart Development
Anticipate a growing demand for applications
Go for Low Code to speed up your digital development
According to the Standish Group Chaos Report, 83% of all IT projects fail due to lack of vision, poor specifications, or frequent changes in requirements and functionality.
The demand for mobile applications will grow at least five times faster than the ability of IT teams to produce (Gartner, How to Deliver Enterprise Mobile Apps Faster 2017).
Over the next five years, 500 million new logical applications will be created, in other words as many as in the last 40 years (International Data Corporation "IDC" FutureScape: Worldwide IT Industry 2019 Predictions).
Low Code tools will allow us to meet the challenges to:
Accelerate projects' Time To Market from ideation to operation by increasing our development capacities
Bring business closer to IT teams on digital native + agile @scale native approaches
Promote your transformation in product mode through the development of Low Code tools to allow the smooth development of practices, organizations, governance and culture
Put more value into applications using artificial intelligence
Low Code
Why use low code?
5X
The demand for mobile applications will grow at least five times faster than the capacity of IT teams to produce them.
500M
In the next five years, 500 million new logic applications will be created - as many as in the past 40 years
65%
By 2024, more than 65% of all application developers will be using low-code applications
Reinvent your development projects
We put low code at the centre of your digital strategy.
As Consultants, Experts and Outsourcers, Inetum supports you in all or part of your low-code development process in line with your particular constraints and challenges.
Push innovation: topics from ideation to operation
Work with business and IT on ideation as well as design and upgrades, to put business at the centre of your application development projects
Embody an agile @scale and digital-native vision to push the product mode in line with innovation, data governance, cybersecurity, and devops
Push digital-native product mode and cloudify
Benefits
Low Code in a nutshell
An acelerator for digital transformation
A pillar of customer experience transformation to support business growth
A bridge between IT teams and business teams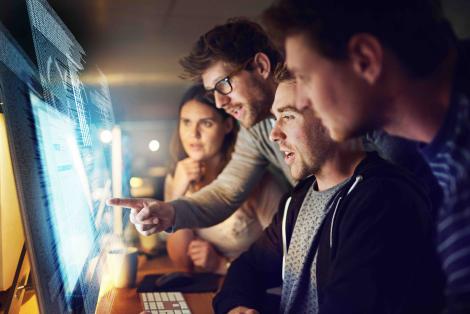 Reduce the Time to Market of applications
Reduce development time and costs
More business value in applications (access to innovation)
Less technical debt, more robust, secure applications
Suited to cloud-native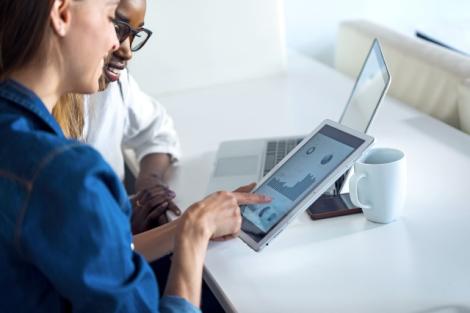 Low Code at the centre of our offers
With our unique mix of business expertise, we support your low-code transformation hassle-free
Proven know-how demonstrated by what we've done for our clients
We are Consultants, Experts and Outsourcers
An organization, methodology and specific toolbox from our low-code factory
Our low-code factory makes it possible to:
Avoid IT shadowing by systematically embedding business and IT
Develop faster, cheaper and with greater operational reliability
Reskill underperforming populations / Restore operational value
Partner up with the market's leading platforms
A modular, end-to-end offer with our Low Code Factory
From consulting to operation, including development and support, we make Low Code the bridge between your business, IT and the end user.
Enterprise Architecture - Strategy and governance
GoToCloud - Technical architecture & Smart migration
Agility & Agility at scale adapted to Low Code
Data governance - Data at the heart of Low Code
Innovation at the heart of your Low-Code projects - AI
UX/UI and Design Thinking
DevOps for your Low-Code projects
Cyber security - Low Code in total security
Low Code Studio - Train your business teams in Product Management
Train your development teams
Support your architecture teams
Boost your development teams
Design test environments
Train people to use methodological tools
Design DevOps CI/CD pipelines
Train people in monitoring tools
Boost your operational teams
Outsource Enterprise Services - Strategy and Governance
Setting up a Low Code Factory
Service and solution catalogue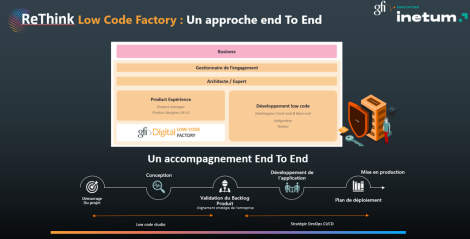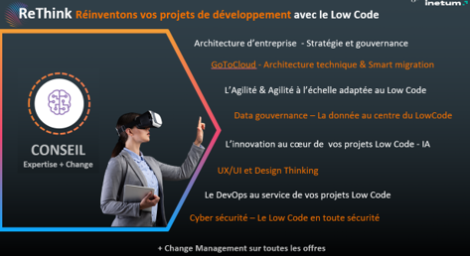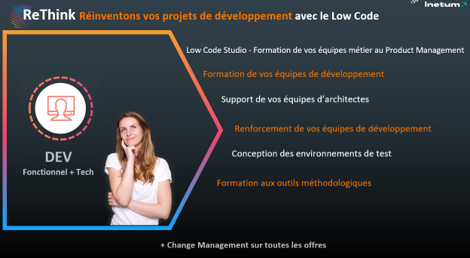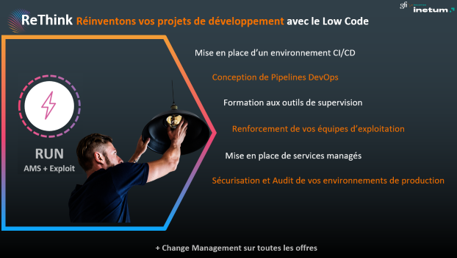 Benefit from some of the biggest technologies on the market
Our main tools – Power Platform, Outsystems, ServiceNow et Pegasystems
They trust us
Public services, hospitals, ministries, transport, energy, health infrastructure operators, telecom operators... We work with numerous players from a variety of sectors.
Microsoft
A leading social-services provider for hospital workers
A leader in mail distribution
A major city hall in the Paris region
A world leader in the energy sector
Outsystems
Main Portuguese motorway operator
Main cable-TV operator in Portugal
Worldwide manufacturer of building, transport and infrastructures materials
Servicenow
Large French ministry
Large French bank
Large French railway company
Company specialising in drinking water production
Pegasystems
Public company in charge of calculating pensions