Digital Identity
Digital Identity​
Every day there are more and more business processes that need a reliable identification of people. Associating biometric features to Digital Identity allows to increase security for users and reduce fraud for companies in digital processes. ​
Advanced biometric algorithms, through facial recognition, iris identification or fingerprint reading, allow us to increase security when we register at a bank, a company or want to carry out access control to buildings, airports or borders. ​ ​
The digital transformation of business processes increases the need to manage the identity of both customers and employees in a secure manner, using multi-factor authentication algorithms that are easy to use and adapted to the exposure to risk.​ ​
New regulations and challenges impact on companies as managers or participants in secure identification processes, which is all the more reason why biometric digital identity is necessary.

Digital Identity Solutions
The need for secure identity management is steadily increasing.
New regulations and challenges impact companies involved in the processes of secure identification. 
Inetum has had 15 years of experience in this field, with a large portofolio of solutions, including remote ID proofing solutions, airport solutions, ID documents issuance as well as blockchain based identity solutions.
The Digital Identity Platform
The Digital Identity Platform was created in 2017 to offer our clients the necessary services for the identification and validation of people and documents in all their business processes in a simple way.
ABC Automated Border Control
ABC Automated Border Control. Solutions for border control by means of automated locks with facial recognition and verification of identity documents for crossing customs, biometric checking and passenger boarding.​
Secure Documents
Secure Documents. Issuance of identity documents, passports and identity cards. Advanced verification through expert systems of ICAO 9303 documents.
Multi-factor authentication platform
Multi-factor authentication platform. Context-based identity authentication (business rules, biometrics, geopositioning, devices...) for risk and fraud management in order to build a security policy for the company and a flexible user experience.
Self Sovereign Identity SSI
Self Sovereign Identity SSI. Solutions for the integration and management of the standard of verified credentials (W3C) in business applications.
Solutions to cover all the needs of Biometric Digital Identity​
We have the team of people, the infrastructure and the knowledge to be able to provide high value solutions in all business processes and use cases where secure Digital Identity is a requirement. As differential aspects we can highlight:​ ​
 "End to end" solutions with the capacity to cover the entire project from its definition, implementation, adaptation and support to satisfy all requirements.​
Knowledge of the needs of companies and administrations, as well as the regulatory framework.​
Contrasted international references.​
SaaS platform of microservices and API's as well as applications and SDK's for easy integration and implementation.​
The best biometric algorithms on the market.​
The highest certifications for both the platform and the services and the tier IV Data Center itself.​
Scalability, availability and guaranteed response times through SLA's and KPI's​
Technical and economic solvency to guarantee long term service.​ ​
Cases of use carried out:​ ​
Digital Onboarding, Fraud Control, Border Crossing, Issuance of Identity Documents, Biometric Boarding at Airports, Access Control, Multifactor Authentication, Sovereign Identity.​ ​
Technologies: Biometric recognition, AFIS, ABIS, LFIS, IA, OCR, Anti Spoofing, SSI (Self Sovereign Identity) ​ ​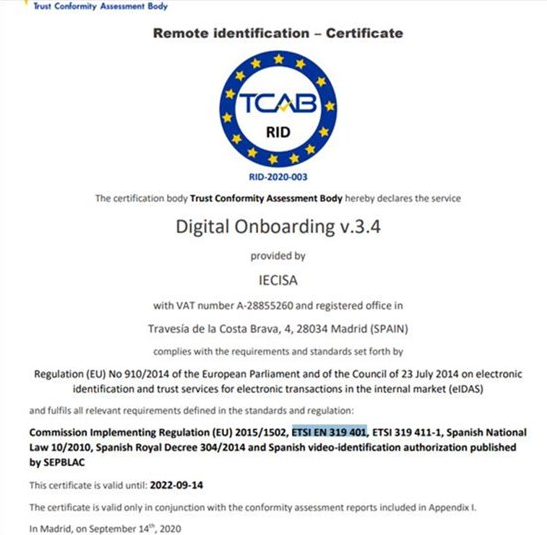 We cover the complete cycle of a Digital Identity​
We cover the complete cycle of a Digital Identity​
Our micro identity services platform together with our team of professionals allows us to cover all the Biometric Identification needs of our clients. The adoption of multi-factor verification systems in addition to reducing impersonation fraud brings clear benefits to both users and companies and public administrations for their use.
For users:​
Greater control over your personal data​
Greater security in digital processes​
Less time spent on paperwork​ ​
For entities:​
Increases security​
Reduces fraud​
Optimizes processes​
Reduces costs​
Increase in conversion funnel​
Increase customer satisfaction and loyalty​
Provides confidence and innovation​ ​
It is for all these reasons that more and more use will be made of these biometric systems that will allow us to provide a secure and controlled Digital Identity to interact in all the digital processes of our day-to-day life.