Intraverse
Intraverse
The integrated solution for building highly sophisticated virtual universes
The ideal solution for your business or educational experts who will quickly be able to deploy the experiences they need: industrial training, immersion in inaccessible places, role-playing games, equipment reviews, visits to neighborhoods...
It is an infinite situation simulator : Imagination being the only limit.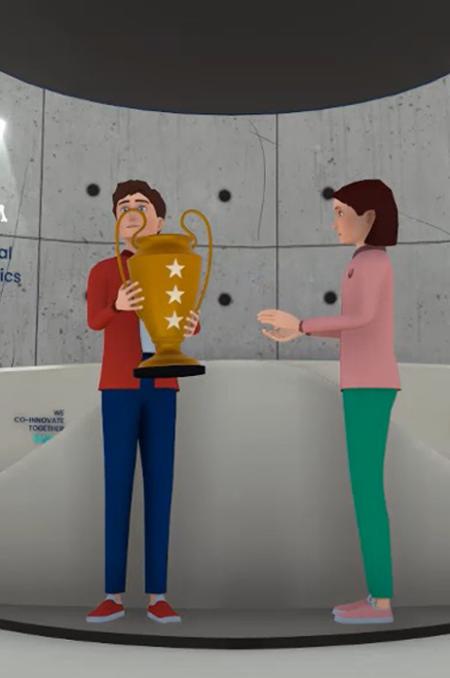 Create easily unique collaborative experiences
Intraverse, Immersive experiences maker
The immersive experiences created with Intraverse can be linked and support many simultaneous users. They can interact with each other as well as with the environment in which they are immersed: much more than decoration, each object or element can be moved or manipulated.
Without programming, you could define advanced rules that affect the environment and objects according to the actions of the users.
Finally, Intraverse can work with all types of devices, whether or not intended for virtual reality:
you are sure all experiences created with Intraverse are future proof.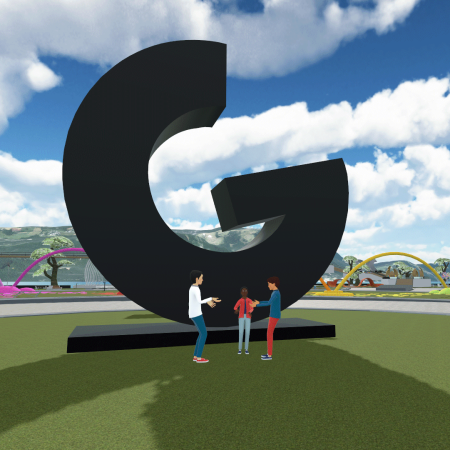 Build your Metaverse solution with Intraverse
Use Intraverse as a White Label to build your commercial or internal Metaverse offering
Deliver & Monetize new digital services in the Metaverse
Accelerate your go to market building on a trusted platform
Make your solution interoperable using an Open-Source technology
Being immersed in a truly interactive virtual world enables people to live situations they would not easily live in reality, due to their rarity, distance, physical constraints or just because they aren't realistic.
From a pedagogical or educational point of view, the great strength of virtual reality is to make users experience real-life situations: all the costly, dangerous situations, where there is no space for mistakes, difficult to reproduce in the real world or very complex to learn with traditional training methods become intuitive and your learners will gain valuable experience applicable to their real work.
Virtual Reality provides a way for collaboration to complement the existing physical and digital ways of communicating, enabling people to experience situations in first person instead of just hearing or reading about them, providing interactivity, opening endless possibilities and fostering creativity .
Videoconferencing meetings are now part of our daily lives but Intraverse can take remote collaboration to a new level by creating a real sense of presence between colleagues or students, making new creative tools available to them and enabling remote team building experiences to create a close-knit community of collaborators or learners.
An Enterprise or Education version of the Metaverse gives your users the ability to access and share immersive experiences with each other, customers or people outside your organization at any time.
Just like videoconferencing, Intraverse sessions are simple and intuitive to organize, making it easy to manage all the aspects inherent to collaborative virtual reality (content distribution and updating, scheduling sessions in the metaverse, inviting people, managing server feeds, etc.). A real productivity, training, learning, and creativity tool that can be used every day and in a professional setting.
Present metaverse platforms offer few interactions but Intraverse allows you to recreate the most complex interactive experiences and processes without any problems, strongly engaging users in virtual experiences they are truly living.
While other Metaverse solutions focus on the consumer marker, we designed Intraverse for businesses with businesses concerns in mind.
The Intraverse platform runs on the cloud, either ours or yours, automatically scaling the infrastructure of your virtual world according to the number of connected users in order to always deliver a smooth and responsive experience.
With Intraverse you can also manage the access rights for each collaboration space or experience by only giving access to authenticated employees, customers or guests. Users and rights can also be managed in groups as in any modern collaborative work solution.
Intraverse is built on UMI3D, an Open-source technology for collaborative 3D Inetum is building with a consortium of Universities, VR companies, and users. This makes it possible for any developer to create contents for the platform, worlds to be interconnected and accessed by new devices.
Features
Let's explore the products' main features
Outstanding collaboration through Avatars and spatialized audio
Since communication quality is a key part of any collaborative scenario, you manage with the best avatar animation and spatial voice system possible and could generate avatars for your users, going from 3D spaces dedicated to character personalization to selfie-based avatar generators like Didimo or Ready Player Me.
Interact with 3D objects from any device
Being based on UMI3D, Intraverse gives end users the best-in-class 3D object and Avatar interaction. In Intraverse experiences users can use their avatar's hands on the objects in order to grab, turn, slide or push them. You don't need to be an expert in designing 3D user interfaces to achieve this since UMI3D already generates the adapted interface for any device accessing the experience.
Access secured spaces with your enterprise account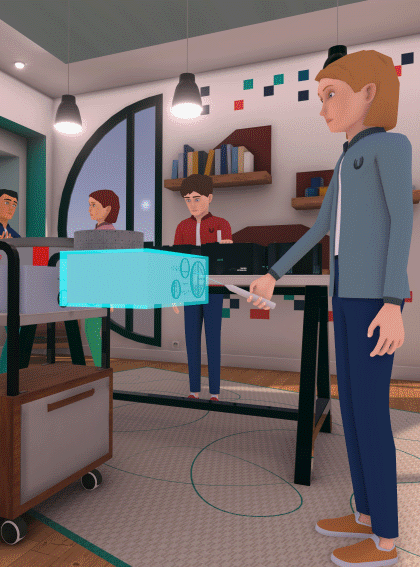 Import your 3D content
Intraverse imports standard files (glb, fbx, obj, unity) directly from your desktop. You can also develop connectors enabling a direct access to 3D assets coming from your information system, or from external APIs.
Make 3D content interactive through interaction libraries
Intraverse's Sketcher includes interaction libraries, enabling you to create highly interactive experiences where users can grab objects, push buttons, turn valves or draw. If you need additional interactions dedicated to your business needs, any Unity developer can create them through our SDK.
Sketch gamified experiences
You have access to a low-code game design tool enabling you to write complete gamified scenarios with ordered objectives, scores, success or fails. All those events can be captured and integrated into BI or LMS solutions.
Develop new content libraries
The Intraverse's SDK enables any Unity developer to turn Skectcher into a vertical no-code solution by packaging interactive 3D objects, interactions and new no-code interfaces in content libraries that can be distributed to your business team, or to any other Intraverse user.
Connect experiences to build entire virtual worlds
You put together VR experiences created with Intraverse's Sketcher or with the UMI3D SDK (Open-source) and build entire virtual worlds. You can connect experiences through portals or doors and manage how your world's infrastructure adapts to the number of connected users.
Manage your content creation workflow
You have an easy way to organize your experiences in projects with different contributors. It also enables you to store and manage multiple versions of each experience that can be deployed in your virtual world(s) through a straightforward validation process.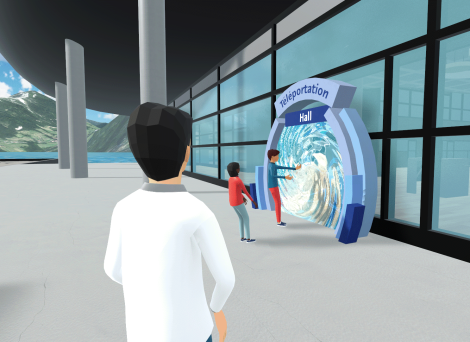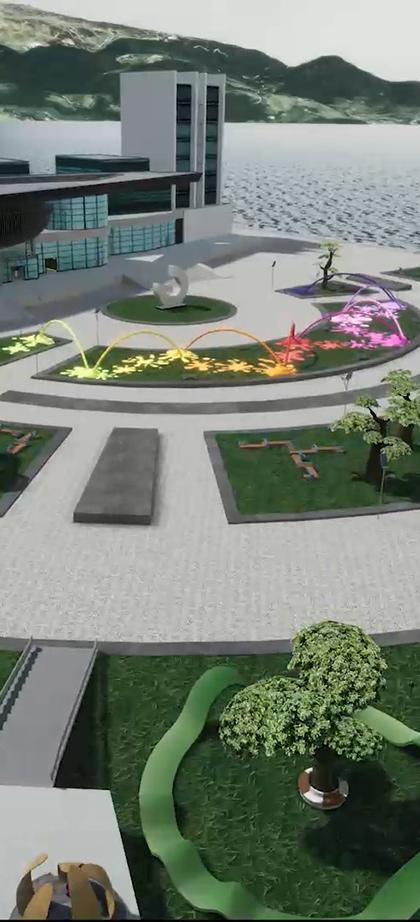 Vertical solutions
Learn by doing
Dedicated to organizations wanting to build an efficient internal or external digital learning system :
It provides you a way to extend the known benefits of immersive learning from the proof of value to a large-scale usage.
Virtual Campus
A complete digital learning solution enabling school to complement existing presential/remote classes with e-learning and virtual experiences immersing students in an experimential environment that fosters learning, appropriation and social interaction.
Enterprise World
An Enterprise Metaverse to gather your employees together and experience the future of work in a virtual environment.
Experience collaborative working sessions, team building and client meetings all in one environment.
Expert opinion
Our virtual word experts speak out 
Training in virtual reality in industry, a challenge taken up by Inetum's innovation teams !
We accompanied them in the Lyon #FabLab with our Inetum innovation teams, both on the good teaching practice aspect and on the use and handling of our product developed by us, INTRAVERSE.
Together, we worked on adapting this solution to their business needs. This means that they now have training modules that can be adapted over time. Their trainers can easily adapt them, without having to code.
Read the article here.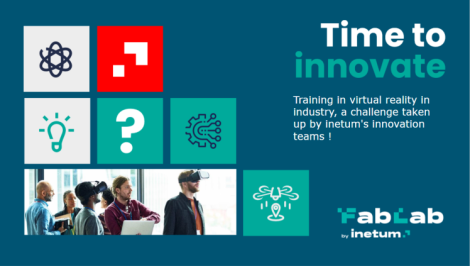 If there is one word that we hear more and more today, it is METAVERSE. A contraction of META and UNIVERSE which dates back to 1992 and comes from the novel The Virtual Samurai, by Neal Stephenson.
All of these uses may not require an actual Metaverse, it may be enough just to conduct on-demand virtual reality sessions. But it's a safe bet that, like the World Wide Web, all of these experiments will end up being concentrated, for simpler and more homogeneous access. For my part, I have no doubt that it will not be long before we have, in the continuity of our websites and our corporate intranets, parts of the Metaverse that are private (let's call it an intraverse) and others that are accessible to our customers and partners (and therefore the extraverse).
Read the article here.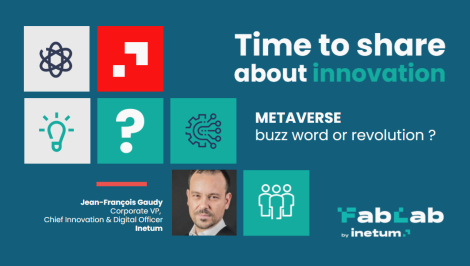 If there's one innovation topic everyone has been talking about for the past few months, it's the metaverse!
The arrival of the metaverse in the world of #education allows us to break free from both physical constraints, and geographical & budgetary barriers, limiting the possibilities of bringing impactful educational experiences to pupils and students.
Read the article here.