Inetum Solutions
Inetum Solutions
Boost your market position and performance
Benefit fully from next-generation solutions with the latest technologies - mobility, cloud, IOT, artificial intelligence, social collaboration, Big Data and more - to increase your agility, flexibility and time-to-market.
Turn change into opportunities and strengths
In the digital age, expectations are changing fundamentally, leading companies to deeply rethink the way they interact and operate. At the same time, digital disruptions are rocketing, offering new opportunities:
Market Rules: reduced market entry barriers, desintermediation risks, new disruptive business models...
New demands: a change in the relationship with customers and consumers (personalization, omnichannel behavior,...), with employees (necessity to be attractive...), and with society in general (ethic behaviour) brings new usages in the way we work, collaborate, communicate and interact (mobility, teleworking, social networks, etc.).
Ecosystem: Companies no longer act alone - alliances, networks, extended competences, and mergers and acquisition bring new ways of collaboration (network project collaboration, standardization/core modelling, process digitization, etc.).
Regulation: Regulation is expanding - GDPR, product traceability, fight against fraud, anti-corruption rules and features are becoming key...
Sustainability: Sustainability is at the same time a strategy, operationnal tactics, behaviours, decision drivers, a transformation plan... and brings new opportunities for companies.
To surf disruptions rather than being disrupted, organizations must reinvent their business tactics and applications using next-gen solutions, and gain in speed and agility to meet tomorrow's challenges.
The Inetum Business Solutions offer is an accelerator for their transformation.
Value proposition – your partner in digital transformation​
A consultancy and integration offer covering the entire digital transformation cycle to redesign your core business and boost your performance, based on the most innovative solutions and technologies:
Digital Customer Experience: Reinvented and highly enriched Customer/Consumer experience – customize and configure customer offers (Mobile Sales, offer configuration, digital subscription), lead the omni-channel customer journey (self-service, click-to-chat, click-to-call, social networks), improve your lead transformation rate with Digital Marketing (modelling and automation of customer campaigns and lead nurturing), improve your B2B/B2B2C/B2C business through e-Commerce solutions, and optimize self-care to increase retention.
Financial and operational performance: Improve your performance in Finance (collaborative closing, invoice dematerialization, self financial reporting...) and Operations (extended supply chain, smart warehouse management...) taking advantage of next-gen ERP solutions through real-time enterprise, mobility, big data, smart collaboration, embedded reporting and analytics features.
Digital Employee Experience: Become a first-class employer through new and personalized employee relationships. Promote an employee-centric platform that fulfils employer brand promises. Manage employee data and information (supplied by Human Capital Management), provide an efficient workplace that promote new ways of working, and increase collaboration and decision-making abilities.
Inetum's end-to-end offer fully lets you benefit from the Next-Gen Solutions promise by choosing the right architecture and implementing best practices brought by our solutions:
Define and design your roadmap to the cloud or On-Premise Solutions,

Re-plan your existing ERP and mitigate between a hybrid or Big Bang scenario,

Improve your business processes with solution-embedded best practices,

Reduce implementation time with an agile approach,

Leverage UX/UI methods to maximize user adoption,

Maintain in condition (AMS) to optimize your ROI and reduce time-to-market
… thanks to our first-class combination of business knowledge, solution expertise and committed results.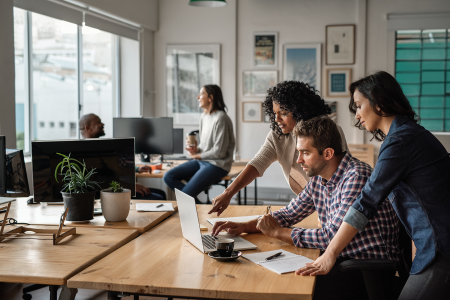 Customer benefits
Boost your customers' satisfaction, strengthen your employees' engagement, and enhance your company's efficiency using Inetum's expertise in your transformation projects.​
Increase customer commitment to your brand​

Boost your revenue and increase profits​

Reduce your operational and IT costs​

Attract and retain talent​

Improve internal collaboration, communication and employee autonomy​

Increase your flexibility and agility, and speed up project time-to-market​
An extended catalogue of solutions
On the road to Digital Banking, omni-commerce, Industry 4.0 or Smart Cities, we address your challenges through pragmatic solutions and approaches.
Digital Customer Experience
Inetum offers:
ecommerce customer web platforms 
Financial and operational performance
Inetum offers:
Digital Employee Experience
Inetum offers:
Detailed portfolio and solutions
The well-known technologies of our partners guarantee the value of our solutions.
Digital Customer Experience:
E-commerce: Adobe Magento, SAP Hybris, Salesforce, Mirakl, Akeneo, Wizzaplace, Orocommerce
Contact Centre Automation: Genesys
CRM: Oracle, Salesforce, Microsoft Dynamics 365, SAP C/4HANA, Adobe 
Customer Web Platforms: Liferay, Acquia, Sitecore, Adobe
Financial and Operationial performance:
PLM: PTC, Dassault Systems, Aras
ERP: Oracle, Microsoft Dynamics AX, SAP S/4HANA, Sage Business Cloud
SCM: Ivalua, Wonderware, SAP S/4HANA
Billing: Opencell, Zuora, Ericsson, Comarch
IOT/Big Data: PTC, Software AG, Cloudera
Digital Employee Experience:
Payroll: HR Access
HCM: Cornerstone, SAP SuccessFactors, Talentsoft
Digital Workplace: Microsoft Office 365, Sitecore, Liferay
We're your partner
A consultancy and integration offer covering the entire digital transformation cycle​

Expertise in functions (Marketing-Sales, HR, Finance, etc.) and sectoral business processes (Distribution, Banking-Insurance, Telecom, Industry, Energy & Utilities, Public Sector, etc.)​

Solid know-how in data development to enhance digital business performance​

International coverage to build and deploy a core-model approach including shared service centres, nearshore and offshore​

"Adopt rather than adapt": knowledge of the main solutions on the market favouring the use of standard features​

UX Design approach to maximize user adoption, and​ a culture of commitment and innovation​
2,300+​
Solution Consultants & Project Managers worlwide​
700+​
Multi-sector references​