Retain talent
Retain talent
We offer our employees the conditions to build the best possible career path.
The pre-integration course is an important step in the life of an employee. We organize online pre-integration courses that help new recruits get to know the company better – a word from the CEO, a presentation of Inetum Group's values and HR policy, a look back at the highlights of the year, etc. Once they have joined the Inetum Group, employees follow an integration course introducing them to our operations, contacts, administrative tools, and all the information they need to facilitate their entry and integration in the company.
In 2019, recruitment and integration questionnaires were introduced for new recruits to improve the recruitment process and identify areas for attention and improvement. When employees leave the company, an off-boarding process invites them to express their thoughts (to understand their motivations) and to stay in touch with Inetum.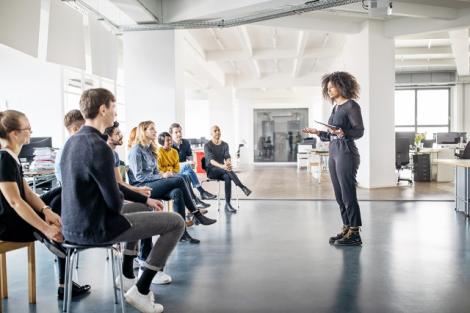 In order to keep the best skills and the most talented profiles, we do everything possible to offer motivating career prospects. Each employee benefits from personalized career follow-up, punctuated by milestones and appraisal interviews. These have a dual objective: to discuss with each employee their proficiency in their job by assessing the skills expected of their benchmark function on the one hand, and on the other hand to discuss expectations for the coming year. At the end of the appraisal interview, a clear action plan with immediate actions (training, expansion of responsibilities, regular feedback, etc.) is agreed upon with each employee.
In addition to the appraisal interview, a professional interview is offered to each employee. This interview is the ideal time to discuss the employee's career path and professional development, and to discuss the next steps in this regard. An action plan, in line with the agreed development goals, can be defined.
In the Inetum Group, everyone plays an active role in their own career path, depending on their ambition, potential, performance and opportunities. The prospects for development are manifold, given the diversity of our businesses and our geographical locations, so that bridges are possible within the same sector or in another. By mapping all the business fields and job descriptions in the Group, we have a clear vision of changes and/or gateways in order to better inform employees and support them in their career planning.
These job repositories in France cover the following fields: Application Services, Infrastructure Services, Software, Consulting, Business Solutions, Sales, Management, and Support Functions.
In addition to the retention dimension supported by our various interview cycles, it is also essential for Inetum to be able to anticipate the evolution of our markets and client needs. For example, in 2020 we launched a major Microsoft certification plan, deployed a training plan dedicated to "IT security" (a client requirement), and decided to deploy a Low Code awareness and certification plan (a new market trend in which we want to be the first to position ourselves). The 2021 curricula and themes will reinforce this dimension.
Inetum Group encourages and facilitates internal mobility (functional and/or geographical). To this end, each employee has access to all open positions in France through our TalentSoft HRIS and can therefore apply for them.
As part of our internationalization, we also offer professional career opportunities in our main locations: Spain, Portugal, Colombia, Mexico, Brazil, United States, Morocco, Ivory Coast, Angola, Tunisia, Belgium, Poland, Switzerland, Romania, Singapore, England, China, Austria, Sweden, etc.
International mobility offers many advantages in professional life: enrichment of experience, sharing of skills, open-mindedness, etc.
The average annual turnover in France was 12.23% in 2020 (not significant due to the impact of the health crisis on the job market that year). It was 18% in 2019, below the market trend.
Worldwide
We adapt our attractiveness to local specificities
We launched a first salary increase campaign following the performance evaluation campaign, and a second campaign to align with the market to ensure a balance and reduce turnover in the face of local competition. The company culture has been strengthened with an internal communication strategy to keep employees informed of company news, as well as internal events to strengthen team cohesion and unite employees around common values. Our presence on social networks is also a source of pride for our employees as we have become one of the most recognized players in the Tunisian IT sector.
Faced with the flight of talent to foreign countries where salary levels are more attractive, we have strengthened our retention measures and deployed a support programme for young graduates.
This includes career development, internal and external training, and a certification programme. An attractive salary package has also been put in place. The first effects are being felt with a controlled turnover that is lower than the sector average.
In May 2018, on the occasion of the Assises de la Responsabilité Sociale in Casablanca, the Inetum Group was awarded, for the 3rd time, the CSR Label from the Confédération Générale des Entreprises du Maroc. This award crowns the efforts made as a dynamic Digital Services Company, working for greater corporate social responsibility.
In Morocco, we have been awarded the label since 2008 and are the only structure in our field of business to obtain it.
We encourage flexible hours and telecommuting to improve work/life balance. We also allow 3 days for deaths and weddings, etc. We value our employees and focus on developing their skills and knowledge.
Finally, we strengthen our employer brand by listening to employees' comments and suggestions, and regularly publish a report on health and safety at work (report shared with employees).
Inetum in Portugal has for the past decade and more measured employee satisfaction and motivation through an annual survey.