CLEVA
In the midst of digital change, Insurance is a sector where IT carries all business processes and puts you at the heart of the company's strategy. The need to adapt to new uses, new players, changing risks and emerging markets makes insurance a sector with considerable challenges in terms of transformation. Innovation is the cornerstone to address these.  
Cleva Inetum is committed to the development of core solutions that boost the digital transformation of the insurance industry through a comprehensive and integrated platform with a complete functional range from managing policies to risk assessment and customer service. Cleva solutions are built on cutting edge technology that contributes to the operational optimisation, fast decision-making processes, and the enhancement of the user experience, focusing on the Life and Non-life insurance market.
An agile, modular turnkey solution
A turnkey solution that is easy to configure and integrate 
Highly configurable and modular, Cleva Insurance Software is an innovative software solution for the distribution and lifecycle management of property and casualty, health and life insurance policies.
As an insurance software, Cleva provides you with agile support to meet key challenges such as time-to-market, digital transformation, performance and regulatory compliance. Cleva provides a complete modular solution that offers broad functional coverage and technological configurability that guarantees a standardised, scalable infrastructure in line with current application architectures.
Optimise your time-to-market
Fast time-to-market for life and non-life insurance products thanks to Cleva's flexible configuration.
Modular turnkey solution
Boost your innovations in a unique and scalable system.
Open and interoperable ecosystem
An open architecture that offers broad interoperability with your third-party systems.
Transformation accelerator
In addition to being a business application platform, Cleva is also an accelerator and facilitator of transformation projects.
Speed up your innovations
Cleva Insurance Software accelerates your functional and technological innovations.
Leading market players rely on us
Over a hundred insurers, bancassurers, major brokers, mutual insurance companies, wholesalers and agents have placed their trust in Inetum as part of their IT transformation and management process automation.
- Isaac da Cunha, Crédit Agricole
"Cleva is very important to our organisation as it is the heart of our business for our activities both in Spain and Portugal. It is a strategic partner for us."
- Mário Félix, Santander Insurance Tech
"More than a supplier, it is a partner. It's our insurers' main partner and our main bank integration module."
- Natacha Seguro, Aegon Santander Portugal
"It is our most important partner. It is our system, all our information, all our policy management with clients and we think it will also be our future."
-Cristina Arbués, Fidelidade
"Cleva is a strategic partner for Fidelidade, we have implemented Cleva products in several of our international operations and in Portugal."
Partner of leading insurance companies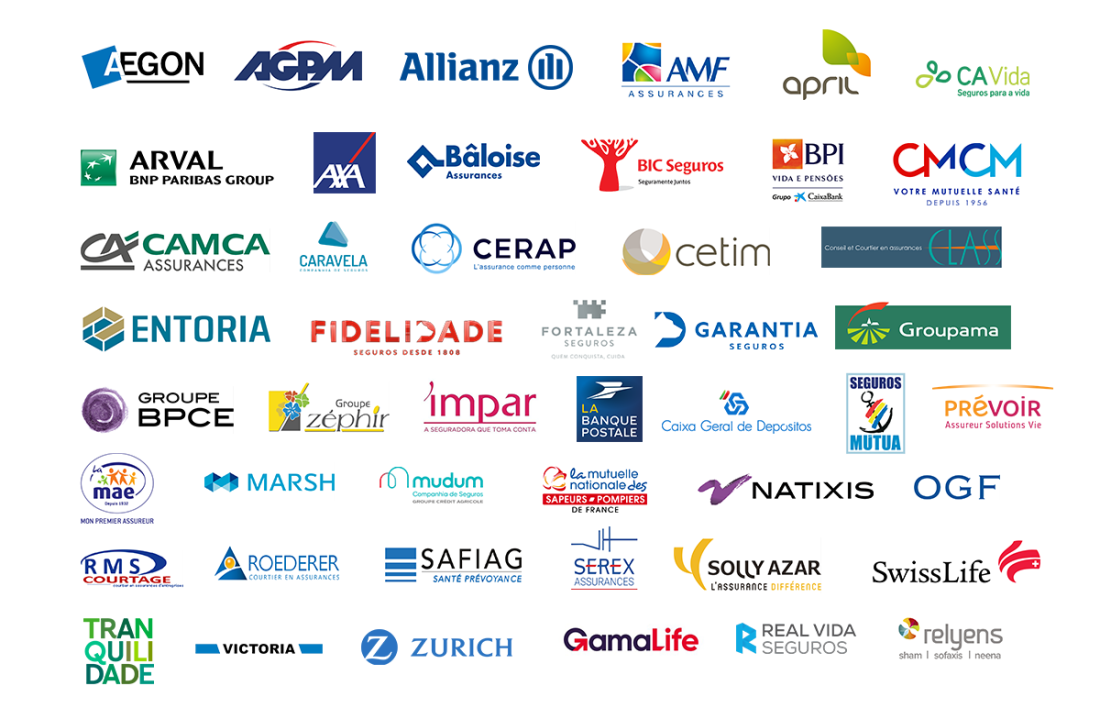 An architecture that's open to third-party systems
Proven high-performance insurance software with innovative state-of-the-art components
Cleva Insurance Software is a full-web, full-Java, full-responsive software solution with an open architecture for broad interoperability with third-party systems, peripheral applications, operating systems, and databases.
Cleva integrates easily into any information ecosystem thanks to its extensive catalogue of documented APIs to address the issues of your information ecosystem.
Integrates easily into our systems
Cleva Insurance Software, Inetum's insurance software publisher, can easily be integrated into the Group's various third-party systems.
Cleva Insurance Software and related applications of the Inetum Group
Its open, interoperable ecosystem makes Cleva Insurance Software easy to integrate with the various third-party systems and peripheral applications of the Inetum Group in terms of document management, data visualisation and CRM.
BUSINESS DOCUMENT UNITY
Enables companies and public institutions to adapt to new needs of internal and external players to optimise their document management and improve communication.
MYMETRIKS
Data Visualisation – customised reports, configured according to the specific needs of the users.
TRAVIATA
Gives you a 360° view of each customer.
Making a difference in the transformation of insurers

Cleva Life
Cleva Insurance Solution, the life-insurance management software that integrates all business processes on the market as standard
Cleva Non-Life
Cleva Insurance Solution, the management system for P&C and Life and health insurance, integrates all business processes on the market as standard
Our Offices
Global expertise, vast experience