Portugal - Career
Key Figures
A reliable and remarkable presence in Portugal, with a team of over 2 500 professional highly skilled in SAP & OutSystems, IT Services, Transformation Projects, Value-Added Resell and Software fields.  
Inetum certified Top Employer Europe 2023
Our 28,000 digital athletes are proud to be certified Top Employer 2023
The Top Employer Europe certification rewards the initiatives that Inetum has been deploying for several years to provide the best possible work environment for its 28,000 employees through our innovative HR practices in order to allow each individual to shape their career path within the Group by living their own digital flow.

Portugal, the place to be
Global Experience, Local Connections
With a remarkable footprint in Portugal, we have been growing fast over the last few years. Present in Lisbon, Porto, Aveiro, Bragança and Covilhã, we have more than 2 500 talents over the country, also operating for international brands. Join the fastest-growing IT Group in Portugal!
SAP
We transform our clients' vision into results
IT Efficiency
Inetum provides all the services necessary to achieve IT excellence and allow IT industrialization and automation. Namely, they are Advanced IT Operations, Advanced Application Management, Electronic Security, Cybersecurity, Outsourcing, Services Performance, and Value Added Reselling.​
Infrastructure Services
Rethink, build and deliver the latest generation of IT production services, in a multimodal* and hybrid environment, economically optimised, agile and scalable, in line with the pace and scope of your business needs.
Inetum Consulting
We build change together with our clients.
Outsourcing
Modernise your infrastructures and make your digital transformation a success.
Inetum Software
Inetum innovates in the design of its products for public and private business activities. Its software solutions are integrated by vertical solutions oriented to Public Sector, Healthcare, Supply Chain, and Compliance, as well as horizontal ones, like Time & Activity, and Document Management.
Digitalization
Inetum digitalization services include: Smart Automation, Smart Dev, Low-code, Digital Identity, Agility, Go-to-Cloud, and Application Modernization.​
Digital Employee Experience
Become a first-class employer through new and personalised employee relationships. Promote employee-centric platform that fulfils employer brand promises.
Vision of innovation
At Inetum, innovation is the core of our DNA. We build our innovation approach with our clients and partners. And we address business, organizational and societal issues at the same time. Our vision is pragmatic innovation that reaches its market spot-on.
Imagine your future. We can help you shape it
Competence, trust and long-term partnerships are our trademarks. Your creativity and motivation move us forward. Happiness, recognition and appreciation are what distinguishes us. Are you ready to start creating your future with us? Stand out from the crowd.
An undeniable strength in Portugal
Best Companies to Work for in Portugal
Our SAP & Outsystems Business Line has been awarded and ranks now the 1st place in the 'Best Companies to Work For in Portugal' ranking, for companies with over 1000 collaborators, according to the study carried out by the Great Place to Work Institute. And our IT Services & Transformation Projects Business Line is among the 'Best Companies to Work for in Portugal', by EXAME magazine.
Included in the Great Place to Work Institute ranking between 2009 and 2019, our SAP & Outsystems Business Line has been acknowledged as one of the pioneering consulting companies in the implementation of HR policies built on the well-being of its employees.  Our IT Services & Transformation Projects Business Line was elected one of the Best Companies to Work for in Portugal in 2018 and 2019, through a study carried out by EXAME magazine. This distinction reveals our good organizational climate, as well as the responsible attitude we have towards our employees and society. 
Leadership, experience and a trusting relationship
We build strong leadership based on high-quality services, a highly motivated team and solid customer relationships. Our team has strengthened in-depth knowledge of key business sectors making us a highly competitive worldwide player capable of providing values added solutions and services.
Our global team is committed and results-oriented, and that has helped us remain highly competitive in our industry. Our business model is based on a client-focused approach to services, and innovation is a key factor in continuing to implement new ideas and solutions. We rely on our talents to create long-term relationships with our customers and technological partners. Always looking forward to the future. 
A long-lasting relationships
Future-oriented with a broad digital technologies offer
Joining us, you will be joining a high-growth Group that is at the heart of digital transformation and digital economy challenges, with very great ambitions for the future. We have a hybrid approach that combines a service company and a software editor, which gives us an in-depth knowledge of our clients business, and places us in a position to offer innovative solutions. 
Innovation is driven in an organic way with the creation of a network of dedicated centers. Today, the network is made up of 6 FabLabs in France, Portugal, Spain & Belgium, soon to be extended to new countries. These FabLabs irrigate our teams by capillary flow of innovative ideas and initiatives to co-construct operational solutions with our clients. We orient our innovation strategy in vertical markets by taking advantage of artificial intelligence, computer vision, blockchain, chatbots, mixed reality, and more generally data related topics, to build business solutions that help our clients in their transformation. 
Always moving ahead
Being committed, moving ahead, and striving for excellence in all our projects by imagining new solutions – this is the culture that drives our teams to meet the challenges of tomorrow, and find solutions to them.
Our values are our compass. They form the basis of our culture and our identity, and we are proud to share them every day. Passion, boldness, team spirit, and the ability to question yourself and suggest solutions are the many qualities that will ensure you have a bright future with us.
Your personality matters
Our talents are central to our success, and that is why we take the time to welcome them, make them part of the team, and share our values.
Your technical and business skills are essential, but your personality and interpersonal skills are just as important to us.
Creating a positive impact
We are committed to a sustainable management and ethics in relations and business, creating more value for clients, business partners, employees and society. We all play a fundamental role in the well-being of society, and we promote a set of initiatives with impact at social, economic and environmental level.
Positivity
Positivity is the social responsibility program of our SAP & Outsystems Business Line. We are committed to sustainable management and ethics in relations and business, creating more value for clients, business partners, employees and society.
Get to know our partners and projects:
The mission of EDP Foundation is to improve people's quality of life, through social, cultural, and scientific initiatives. Our SAP & Outsystems Business Line supports some initiatives of MAAT, a contemporary museum of the EDP Foundation that crosses three areas for debate, discovery, critical thinking, and international dialogue.
A partnership lasting since 2007, aiming to improve the quality of life of teenage mothers in the disadvantaged situations and early pregnancy. We support the Humanidades Association through several initiatives in carrying out recreational activities that provide experiences in personal development and growth to the young mothers and association employees.
A partnership that started in 2012, aiming to support underprivileged children and young people from the Douro region, by monitoring their school careers and creating opportunities for developing successful life projects.
We support Bagos D'Ouro, carrying out activities and projects related to reading incentives for the young children of this association.
João Correia was born in 1983 and at the age of two, an accident put him in a wheelchair. In 1991 he started practising sports, becoming the first Portuguese athlete to win an international medal, in wheelchair athletics. In this career lasting 17 years, João Correia has had over 50 participants in national and international competitions. We have been supporting the athlete João Correia since 2016.
A social solidarity association, apolitical, non-profit, founder of "Movimento 1Euro" (1 Euro Movement) that depends solely on its members' financial support - 1€ per month per member - to support causes that are chosen and voted by all members through its website. We are a partner of this association since 2012. 
HandsUP!
We want to conduct our business in a way that is ethical, having a social, economic and environmental impact. Our IT Services & Transformation Projects Business Line develop a set of initiatives with impact at social, economic and environmental level:
Change together: social development and solidarity
Generate a broader impact in our society, supporting local communities
Be active and conscious about the local needs, putting in place key solidarity initiatives
Think green: environment sustainability
Raise employee awareness of sustainable development and alert for the impact of its activities on the local environment
Identify best practices and put forward some concrete actions that could be shared with colleagues and business partners
Learn for the future: entrepreneurship, culture and education
Increase the impact of our team in youth education
Encourage entrepreneurship and social innovation
Together we are stronger!
Our initiatives aim to show the importance of our company as an organization that play a fundamental role in the well-being of society by including social and environmental concerns in its strategy.
GRACE
Our Insurance Software Business Line is part of a network of more than 170 companies that are members of GRACE, a non-profit business association of public utility, operating in the social responsibility and sustainability areas.
With this partnership, we are promoting initiatives within the framework of social responsibility and aspires to become part of a voluntary programme more closely aligned with the aims of sustainable development.
Solidarity (Social and Community Intervention)
Annual Blood Donation Campaign, Pirilampo Mágico: Christmas donation in 2 Social Solidarity institutions (chosen by Clients and Employees), Initiatives to support national and international communities (natural disasters, fires, among others)
Sustainable (Environmental Intervention)
Awareness campaign for waste reduction; Implementing recycling or reuse options; Energy saving.
Your journey starts here
Everything you need to know to be part of our family! Accepting a new work challenge is always an important milestone in everybody's life. Our onboarding policy was designed to simplify your integration in our company, making sure that you can easily boost your career within our Business Lines.
Check-In
From the moment you accept our challenge you are one of us. Even before your first day at our company, you will receive relevant digital information, so you can learn about our company and become familiar with our internal tools and procedures.
Welcome Aboard
In the beginning of your journey with us, you will have a closer attention from your Manager and HR Team to make sure you are well acquainted with your new family. We will provide a welcome moment during your integration process
Integration Follow-Up
We have a three-month check-in to make sure that that you are comfortable, happy and engaged.
We value our talents
The next hire can come inside. Internal recruitment aims to value our talents, offering career development opportunities through transition within the Group. Offering a wide range of brands and products, we have amazing challenges inside the Group.
Nowadays the best hires can arise from inside! We provide the means for our talents to search for new challenges inside our company. We closely follow up on them so they can fulfil their professional ambitions!
When there is the possibility of internal recruitment, this format will always be privileged regarding to the external recruitment process. In these cases, the HR & Talent teams will provide internal disclosure so that all employees have access to information and equal opportunities to participate in the selection process.
After application, internal candidates are submitted to the regular selection process. The internal transition requires the approval of the employee's superior who is applying for the internal job offer.
Building your career
A culture of continuous improvement designed to challenge our people. Our career program will help you grow professionally and personally. Our career model was designed to assure that you acquire the competences needed to respond to our challenges.
IT Services & Transformation Projects
Our career framework is organized with career levels and career families. Management, Business Development, Operations and Business Support are the career families in which you will find a group of roles, taking in account the competences of the jobs. The career levels are transversal, independently of the area you will act. A simple framework to guide you in your career development.
SAP & Outsystems
In our vision, technological and management skills are equally important. Careers in technical and management specialization go in parallel, allowing everyone to fully develop. This also allows mobility between these paths, because there is a common background among functions with the same level.
Insurance Software
Careers are divided between different roles. The role and functional level is public and consultable, the evolution between functions can occur horizontal and vertically, as long as the competences are suitable for the function. Any function can assume different roles in all grades.
Guiding your journey
Since the first moment, our HR & Talent teams will clarify any question you may have, facilitate the resolution of any issue you might encounter and help you to face your challenges. More than a department, the HR team is a partner. A team dedicated to support you in all different subjects, such as salary, vacations, health insurance, benefits, among others.
Your right-hand team during the journey
A dedicated HR & Talent teams
A team dedicated to supporting you in all different subjects, such as salary, vacations, health insurance, benefits, among others.  Also, we have a Talent Team that works closely with you and with the management team, to think strategically about our Talents.
Your partner since the beginning: More than a department, the HR team is a partner. The team plays a key role in developing, reinforcing and promoting our culture. Our team manages working conditions, equal opportunities, staff welfare and training & development.
An 'Open Door' policy: Our team are always welcome to appear at any time of the day to talk, share their doubts, ideas or initiatives, give their feedback, etc. Stay and Exit Interviews with the purpose of understanding the best way to retain employees, focus on maximizing the reasons to continue and be happy in the team, and minimize complaints.
Continuous feedback & development
We care about our Talents, so, getting feedback and improvement suggestions are the key to make sure all parts are aligned. We launch several surveys to feel the teams and based on that we develop new strategies to work levels of satisfaction.
Performance Appraisal: Our Performance Appraisal Process is one of the ways to follow up your career and your performance. It's the main tool to register and gather your feedback. Nevertheless, we value continuous feedback and our management teams are always available to listen to you!
Continuous feedback: By providing continuous feedback to our consultants, we guaranty the constant alignment between employee's performance and what is expected from them. 
A knowledge-sharing culture
Internal communication tools
We promote a culture of transparency, where information related to internal processes and business is accessible to all. Tools like Yammer, Chatbot and Newsletters are essential to ensure that information flows around the company.
Internal communication platforms: We have specific platforms (such as Yammer) accessible from any location and device by all employees, allowing you to share information and promote internal know-how. Our internal chatbots help you to clarify all doubts about Human Resources topics.
Newsletters: Our internal newsletter ensures that you are fully aligned with the company's operations, as well as with its values and beliefs. Its content is as versatile and a channel for contact, dissemination and updating of various topics. We also have flash news to promote a sense of belonging through diverse activities like contests and the diffusion of useful information. These newsletters can be sent by Marketing, HR, IT, or other teams according the subject.
A smooth & efficient integration
Early intervention is crucial for the smooth integration of the company. Our key to successful integration is an accurate description of our procedures and culture. 
Onboarding sessions: One of the most critical factors in recently hired talent is the onboarding process. Our HR team take care of your well-being and efficient integration. 
Team availability: Our team is always available to support your journey and boost your efficiency at the work.
Learning is experience
It is essential to walk side by side with the new trends of IT world. We bet on constant learning and skills development, so, we go one step ahead. Training and certification of our people are strategical in our company. 
Every year we prepare an ambitious and comprehensive training plan to respond to the identified training needs of our teams. This plan includes actions from various areas of knowledge: technological, technical, business, management and languages. From e-learning through several different platforms, to on-the-job training with our most highly experts, you will strongly reinforce your skills.
Programs designed to respond to business and market needs, and to support the individual career path of each employee
Regular internal initiatives allow our employees to develop skills and have contact with new technologies and trends
Partnerships specific Training and Certification (SAP, Outsystems, Microsoft, Oracle, DELL/EMC, Liferay, Sitecore, among others)
E-learning Platforms (Moodle, SAP Learning HUB, Percipio)
Coaching / Mentoring Programs (Insurance Software)
Classrooms fully equipped to promote a learning environment (SAP & Outsystems)
On-the-job training
Learning to embrace new challenges
Looking for the hidden talents. We are committed to give opportunities to people and help them grow and face new challenges. Retraining is the new way for this new professionals embrace such an attractive area. We will do our part, to those that invested in requalifying their career!
UPskill – Digital Skills & Jobs
We are one of the founder companies of the main program to the digital transformation in Portugal - UPskill-Digital Skills & Jobs, which goal is to answer to the growing demand for digital skills.
We are committed to give the opportunity to a group of professionals that have decided to change their careers and face a new path in the IT area!
SWitCH, reconversion program
SWitCH is a reconversion program promoted by Porto Tech Hub and ISEP for those who want to acquire competencies and skills for full and fast integration into the job market as an IT professional.
SWitCH applies agile practices and learning interactive processes to provide to its students a solid, yet fast comprehension and application of software development skills. It applies to Graduates (bachelor degree), with or without STEM (Science, Technology, Engineering and Math) background.
What do our talents say?
Your experience is our story. Talent stories give real insights into the employee experience as a whole. Here, you can check how our talents feel about our organization and what you can expect from us.
Apprentices
Enrich your learning with our collaboration! Count on us to guide you and share our knowledge.
The practices you acquire during the academic internship will be the best way to add value, in terms of personal development, and to learn more about your area of study, in terms of professional development. An academic internship allows you to gain professional experience and ensures that you learn more about the career you have chosen. We have some Summer Internship Programs to promote your first contact within the IT market. 
Internships
Your first contact with work reality, be part of an experienced team and learn every day!
We offer the opportunity for you to know, from inside, how is it like to work in an IT company. We will prepare you with the right skills for your future job and our teams will always be available to support you.
Young Graduates
The right place to start your career! Your first career decision counts.
You will have the opportunity to embrace our culture and live our values. You will quickly gain new skills through direct contact with our teams and projects! Your ideas and knowledge sharing will also be welcome and appreciated!
Academies & Others
Our Academy Programs consisting of a set of training courses designed to build a true team spirit and provide solid technical knowledge.
SAP Academy (SAP Development; SAP Logistics; SAP Financials; SAP HR/ SuccessFactors)
Outsystems Academy (Low-Code Factory)
SharePoint Academy
Microsoft Academy
Quality Assurance Academy
Open Days (Insurance Software)
Among others.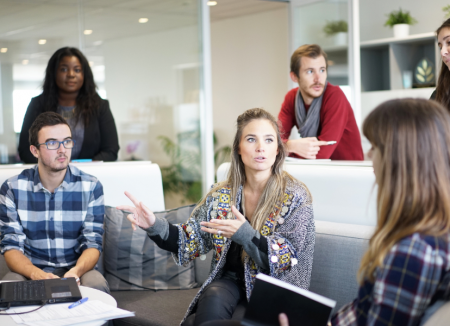 People, our most valuable asset
Cultivating the right vision, workplace atmosphere and team
Our success comes from great teamwork and extraordinary individual dedication, so we strive to reward cooperation and entrepreneurship. For us, our talent wellbeing is the heart of our strategy. We want you to feel that your job has a special meaning, and we like to thank to each one of our employees their commitment, through a set of benefits and advantages.
You are the backbone of our business
A whole world of benefits for you
Flexible working hours & extra vacation days
We value work-life balance. All our employees have access to flexible working hours and, when the project enables, the opportunity to work remotely.
Protocols (​Education, Leisure, Restaurants, etc.)
We have several partnerships to offer you some discounts and benefits in several areas.
Having offices and businesses all over the world will give the opportunity to travel, participate in international projects and have colleagues all over the world.
Learning & development opportunities
We invest in the future of our employees, and we help them to grow in the company. Working with us will allow you to have access to a large set of training and learning methodologies and tools.
You will always have the means and training necessary for your career development.
International Opportunities
We are present in almost 30 countries all over the world, and you have a world to discover.
Your life with us is more than a job
A happy space to work
We take fun very seriously! Aside from your daily responsibilities, you will have a series of animations and events to help you to take your mind off work and strengthen a team spirit with your colleagues. 
Best company parties & team building events
We like to work, but we also like to party with the utmost intensity. We usually have Annual & Summer Events, Christmas Dinners and other amazing parties.
Fun contests & special days celebration
It is so good to encourage our talented employees to achieve the best in all fields! Our internal contests with specific gifts and the way we celebrate special occasions are essential in our corporate culture.
Initiatives for your family
We have some initiatives to support and evolve our talents' family, such as specific incentives and scholarships to employee's children. 
A balanced life
We privileged a balanced life, essential for your personal health and well-being in a fast-paced and modern world.
The health and well-being of our employees is a high priority. That's why you will have access to a health insurance plan and other benefits like free fresh fruit or a free medical appointment at our headquarters.
We have a set of activities to boost your wellbeing, such as running, padel, relaxing lounge, among others. 
We have an informal workplace culture, with opportunities to learn and grow and a good relationship with top management. 
Your home away from home
Happiness at work is halfway to success! With several events and initiatives throughout the year, you will be able to get to know everyone better. For us, is truly important to feel you close and know more about you! Our Happy initiatives is the way to achieve it.
The balance between happiness and productivity
For us, a comprehensive measure of individual-level happiness is essential to promote your engagement and motivation levels.
We believe you are motivated by our company's culture, the confidence in the future, the recognition and autonomy we can give you. And you have right. Your happiness is truly a priority to us, and we privileged an open and supportive relationship inside the company. We believe on a 'Work Hard, Play Harder' culture, where you are at the center of our strategy.
Always searching for talent
The recruitment journey intends to identify and to welcome talents that share our innovative mindset and values. The process is tailored to one's profile in the sense that the people involved in the process are those that will work closely together with the candidate. We believe that this is a two-way process where both parts get to know each other. We look for candidates that share our values, have a positive attitude, are self-motivated and can adapt easily to different environments.
First contact & interview
If your profile matches our needs, our Talent Acquisition team will contact you to schedule a first interview to get to know in more detail your professional experience, soft skills, motivation, personality and cultural fit to join our team.
Second assessment
Performed by the hiring manager, or a senior consultant, with the necessary technological or business background, this assessment will allow us to evaluate your technical knowledge.
Job Proposal
If the feedback from the recruitment stages are positive, you will receive a proposal. If you have any questions, our Talent Acquisition team is always available to provide you the necessary information.
Integration
Once you have accepted the offer, the recruitment process is complete, and your integration process can start. Our HR team will lead you through the process and will welcome you on your first day.