Digital Customer Experience
Digital Customer  Experience - Catch your customer  attention
Redesign and enhance your Customer and Consumer experience.
Customer expectations and demands are continually evolving. With more information than ever within easy reach, they can choose how, where or when they interact with brands.
This enables companies to answer/adapt to customer demand for curated experiences, seamless interaction and immediate satisfaction. Welcome to the disruptive era of hyper-relevance! Your products and services will be improved and adjusted in real time to match customer needs, requirements and preferences.
But, competition also increases with digitalisation, as do consumers' choice in products. The ability to gain their loyalty has become a key goal for companies and brands. Three main drivers can be leveraged:
Personalisation of experience and relationships,
Excellence in operations, especially supply chain,
Anticipation and relevant recommendations.
All of these will make your company more Customer/Consumer-centric.
Digital Customer Experience - Customer benefits
Boost your customer's satisfaction and redesign customer's journey using Inetum's know-how in transformation projects and next-gen solutions.
Design a full, coherent, personalised omnichannel customer/consumer interaction journey on all touchpoints.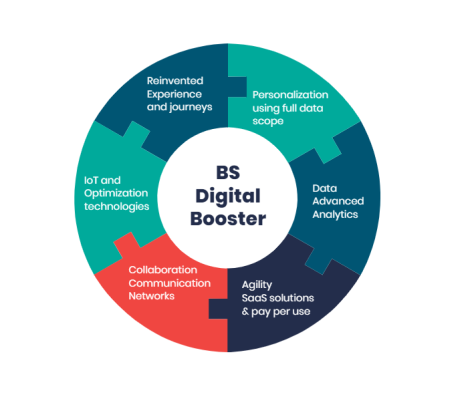 Personalise each Customer/Consumer's experience, target their focused interests, suggest specific attractive products and conditions, and offer different services and shopping journeys (Click and collect, product reservation in store…).
Analyse digital performance and identify a winning, profitable sequence of interaction and preferred experiences (use of selfcare, etc.).
Rely on a high satisfaction rate to let the Customer/Consumer share their experience, product and brand knowledge with their network.
A new momentum for your customer strategy
Putting the customer at the centre of your strategy in order to better know him and better satisfy him requires a technological and service transformation of your organisation.
Persona definition
Omnichannel Customer journey design (UX-UI design)
Omnichannel business organisation definition
Customer community activation
Customer personalisation process design
Customer journey profitability analysis
E-commerce solution
PIM and DAM solutions
CRM – Selfcare solutions
Clienteling solution
Contact Centre automation solution
Marketing automation solution
Loyalty and advocacy solutions
Product recommendation engine solutions
Order management systems.
Customer master data solutions
Customer data platform architecture
Customer clustering, targeting and scoring
Promotional performance analysis
Churn detection
Analysis of winning journeys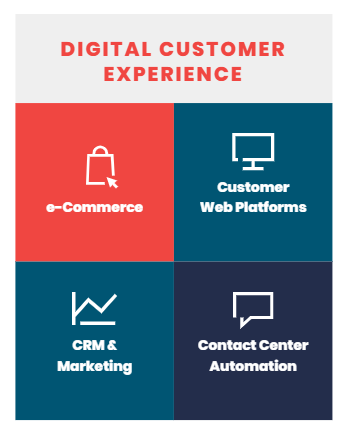 Digital Customer Experience
Digital Customer Experience - Value proposition and services portfolio
A consultancy and integration offer covering the entire digital transformation cycle from customer's journey redesign to best-in-class solutions implementation. Inetum delivers deep expertise on market leading solutions on the following domains:
eCommerce
Boost your digital footprint with a new product and service purchasing experience on web and mobile.
Customer Web Platforms
Profile paths, related content and an efficient engagement platform – 3 essential elements for a successful customer experience.
CRM
Make sure your Customer/Consumer feels special and unique.
Contact Center Automation
4 major objectives for developing your Customer Relationship. ​
Digital Workplace
Get the best of your employees, make their life easier and enhance your employer brand.
Billing
Support and automate your billing processes for increased agility
ERP
Speed, simplicity, agility, and scalability are what your future ERP grants to support your new business model and processes. Simply focus on the excellence of your core business!
Supply Chain
Accelerate your Supply Chain transformation !
Alliances & Partners
We have forged strong partnerships with the market's leading publishers enabling us to offer you expertise at the cutting edge of technology and innovation.